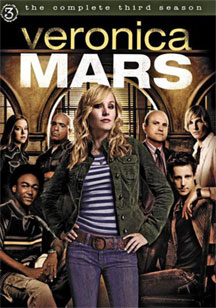 Warner Home Video will be releasing the third and final season of Veronica Mars onto DVD on Tuesday, October 23.
The DVD contains all 20 episodes, some special bonus features including deleted scenes, a gag reel, some featurettes and webisodes, and, most importantly, theVeronica Mars: F.B.I. presentation which was used to pitch Season Four.
Neptunesite's Craig Byrne has had the opportunity to do an early review of this set. Read the review!
And, be sure to get your copy of Veronica Mars Season 3 from Amazon.com!