The October 1 issue of TV Guidemagazine, that hits newsstands on September 27, features beautiful blondes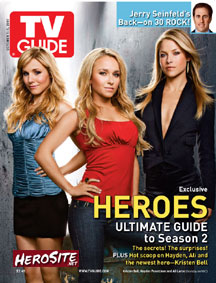 of Heroes – Kristen Bell, Hayden Panettiere, and Ali Larter! Also inside will be TV Guide's "Ultimate Guide To Season Two" of the popular show.
Finally, Kristen has made it onto a TV Guide cover after not appearing there in three years of Veronica Mars.
There's a preview of the cover at our companion site in the KryptonSite Network, HeroSite.net. You can see the cover at a much larger size in the HeroSite gallery.